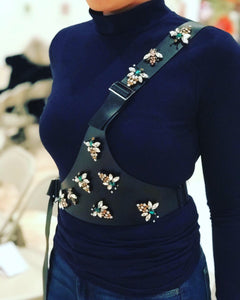 A Vegan leather Unisex belt defined by STEPHEN + ANTONIO'S signature hand made Crystal Bee's. The Crystal Bee's speak to the House's runway narrative. 
Black Vegan Leather Belt
Unisex
Defined with handmade Crystal Bee's 
Belt can be worn as waist belt , and Cross Body belt. Sizing will differ based on where Belt is worn.
One size Fits all.